Galettes and Brioches for Epiphany
With all the festivities of Christmas behind us, what is there to look forward to in January?
In countries that include France, Spain, and Mexico you'll discover their particular version of King cake made to celebrate Epiphany on 6th January. This important day marks the arrival of the Three Kings (or Wise Men) bringing gifts to the baby Jesus of gold, frankincense and myrrh.
Until as recently as the 19th century, this date was considered far more important than Christmas Day! Nowadays, the cakes and breads are usually sold throughout January with plenty of time to savour. Let's take a tour of some of the wonderful creations available. There are two different types, ones created with pastry, ones that are brioche based.
Spain and Catalonia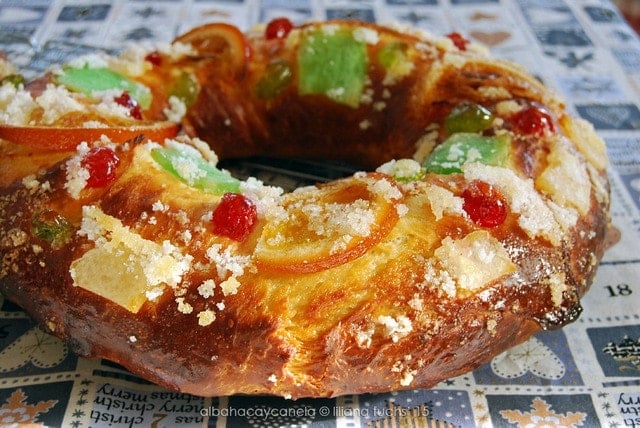 The Roscon de Reyes is or Tortell des Reis is stuffed with marzipan. A bean and a figure of a King will be included in the dough. Who ever find the bean, apparently has to pay for next year's Tortell. The person who finds the figurine, gets to wear a crown
Italy
Mardi Gras King Cake
This version of the king Cake is a yeasted dough ring shaped covered with coloured icing. The colours sugar represent Justice, (purple) Faith, (green) and Power, (gold). A small plastic baby symbolising Jesus is hidden in the dough for good luck. Whoever finds the baby brings the King Cake to the next Mardi Gras party.
France
In France, the Galette de Rois is made from puff pastry and is traditionally filled with Creme d'Amandes, a glorious mixture of creme patissiere and almond. Discover my recipe for Galettes des Rois.
In times gone by a bean would be added to the filling, now it is more likely to be a figurine. It can get rather competitive. Some bakeries produce a whole series of figures, and of course you'd need to collect them all. Many are sold topped with a King's Crown. The youngest child is prompted to sit beneath the table and direct who should eat the piece that is cut. If you find the figurine, you are King (or Queen) for the day.
Brioche des Rois Recipe
While the pastry galettes des rois are found all over France,in the North and in Provence, the King cake is a brioche. My recipe comes from Provence and is full of citrusy flavours.
Brioche des Rois Provencal - Provencal King Cake
This brioche is often made at the time of Epiphany, 6 January, to celebrate the arrival of the Three Kings. It is full of lovely citrusy flavours and candied fruit, yet is light to eat. You could add creme patisserie or whipped cream as a filling. This versatile dough can be made and left to prove in the refrigerator overnight should it fit your schedule better. Orange flower water is widely available. The quantity may seem high, but it really works well
Equipment
1 Stand mixer

1 bowl

1 Baking Tray

Baking parchment

or silicon
Ingredients
380

grams

flour

French T55 flour or bread flour

30

grams

caster sugar

20

grams

fresh yeast

or 7 gr dried yeast

75

grams

butter, cubed

preferably unsalted

20

millilitres

orange flower water

20

grams

honey

50

grams

mixed peel

optional

3

grams

salt

2

whole

eggs, beaten

100

grams

mixed dried fruit

eg apricots, dates, cherries

water

a little more if the mixture is very dry

pearl sugar nibs

optional, for decoration

jam for glazing

apricot or plum works well

1

egg for egg wash
Instructions
Beat the eggs and place in a small bowl.

Place the flour, caster sugar, salt and yeast into the mixer bowl.

Add the honey, orange flower water and cubed butter. Add the eggs.

With a dough hook or your hands mix for about 10 minutes until the dough is very smooth and supple and reaches between 24 and 26°C. Add the candied peel and mix until well combined. It will come away from the sides of the mixer bowl.  

Cover the bowl and leave it in a draft free place for 1 hour. Alternatively, put in the fridge for use later (leave it at least 6 hours).

Form the dough into a smooth round ball. Then flatten slightly and make a hole in the middle. Widen the hole and shape evenly (like a large holey doughnut).

Place on a silicon sheet or baking parchment on a baking tray. Brush lightly with the remaining beaten egg.

Chop the mixed fruit and sprinkle round the top of the brioche. If you are using pearl sugar, sprinkle that round the sides.

Pre-heat the oven to 180°C/350°F

Leave the brioche at least 1 hour before baking. It should be soft and spongy to the touch.

Brush again with egg. Have some extra parchment paper to hand to place on the top half way through baking.

Bake for approximately 25 minutes. The brioche should we well risen and golden brown. After about 15 minutes, place the parchment paper on top. When ready, the underneath should be golden brown and the dough round the hole should be well cooked. Check that the internal temperature has reached 95°C

Let it cool a little before serving. If you are adding cream or creme patissiere, it should be completely cold. 
Notes
This recipe can be made without a stand mixer. If you do make it by hand, soften the butter first. 
You will need a baking tray, baking parchment or silicon paper; a pastry brush.
Inspired to bake more? Check out my Bake Better Bread Series or take a class with me.